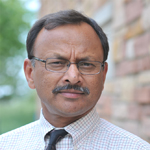 Sanjai Bhagat is Provost Professor of Finance at the University of Colorado at Boulder. He has worked previously at the U.S. Securities and Exchange Commission, Princeton University, and University of Chicago. He has an MBA from the University of Rochester and a Ph.D. from the University of Washington.
Dr. Bhagat has submitted several amici curiae briefs to the U.S. Supreme Court on class-action litigation; these briefs have been cited in the high court's decision.
He has published extensively in the leading Finance and Law journals (such as, the Journal of Finance, Journal of Financial Economics, American Law and Economics Review, Columbia Law Review, Journal of Corporation Law).
Dr. Bhagat is a board member of ProLink, an enterprise software company; Integra Ventures, a venture-capital company; and of the National Association of Corporate Directors – Colorado Chapter. He is also a founding director of the TiE-Rockies (The Indus Entrepreneurs), a professional group serving the technology entrepreneurs.
He has served as the Associate Editor for the Journal of Financial and Quantitative Analysis, Journal of Financial Research, and Journal of Corporate Finance. He has advised U.S. government agencies and Fortune 500 companies on corporate governance and finance issues. His work is cited in the popular and financial media such as the Wall Street Journal, Barron's, Economist and the New York Times.
Litigation Consulting
Damages in securities class action litigation.
Expert Witness
Corporate governance and executive compensation.
Valuation of private corporations.
Litigation surrounding M&A.